STUFF THE BUS COMMUNITY EVENT
Help us stuff the bus by donating NEW school supplies for the upcoming school year! All supplies collected will be delivered directly to the the Lake Superior School District ISD 381 and the Superior School District and distributed to students by school staff!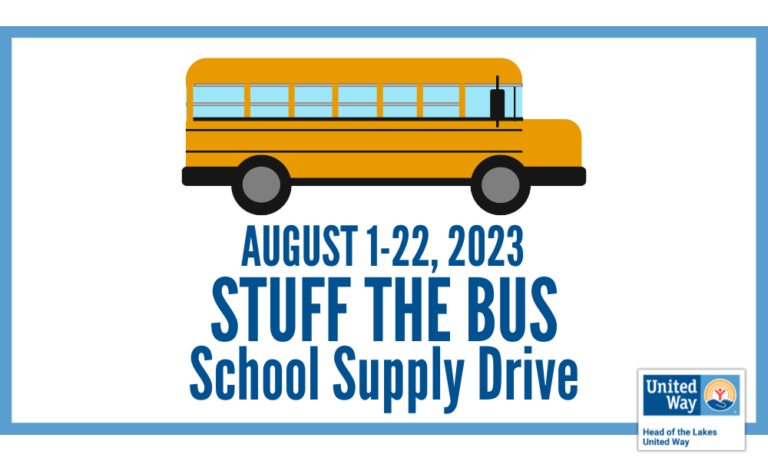 Lake Superior School District ISD 381
Most Needed School Supplies
Antibacterial wipes
Earbuds
Wide-Ruled notebooks
No. 2 Pencils
Markers
Dry Erase Markers
Colored pencils
Crayola crayons
Watercolor paints
Scissors
Glue sticks
Pocket folders
Bottles of glue
Tissues
Index cards
Castle Danger Brewery (Two Harbors)
Harbor Insurance (Two Harbors)
Park State Bank (Two Harbors & Silver Bay)
RJ Houle Information Center
Two Harbors Federal Credit Union (Two Harbors)
Super One Foods (Two Harbors)
Zup's (Silver Bay)
Most Needed School Supplies
Pencil Boxes
Headphones
Colored Pencils
Crayola Markers
Refillable Water Bottle
3 Ring Binders with Pockets
Folders (Plastic, Heavy Duty)
Spiral Notebooks
Kid Scissors
Watercolor Paint Sets
Playdough
Zip Lock Bags (various sizes)
Black Sharpies
Healthy Snacks (non-perishable, individually wrapped)
#2 Pencils
Erasers
Glue Sticks/Glue Bottles
Crayola Crayons
Backpacks
Anytime Fitness
Barker's Island Inn
BMO Harris Bank
City of Superior Clerk's Office
Douglas County Clerk's Office
Douglas County Human Resources Office
Edward Jones Superior – Jason Rolfe & Robyn Lings
Empower Superior Nutrition
Fen-Tech
Mike Raivala Re/Max Results & 2 Bridges Real Estate Group
The Pottery Burn
Superior Chamber of Commerce
Superior Impact Nutrition
Superior Schools District Office– 3025 Tower Ave.
Superior Choice Credit Union- Tower Avenue
Superior Choice Credit Union- 2nd Street
Super One – Oakes Ave
Super One – Harborview
Download our Stuff the Bus Posters
WE RECOGNIZE THE IMPORTANCE OF NATIVE LANGAUGES AND ARE WORKING HARD TO MAKE OUR WEBPAGEs AVAILABLE IN OJIBWE.
As we continue to work on this, please feel free to use the translation tool below.
Address: 424 W Superior St STE 402, Duluth, MN 55802