HELP US CELEBRATE OUR 100 YEAR ANNIVERSARY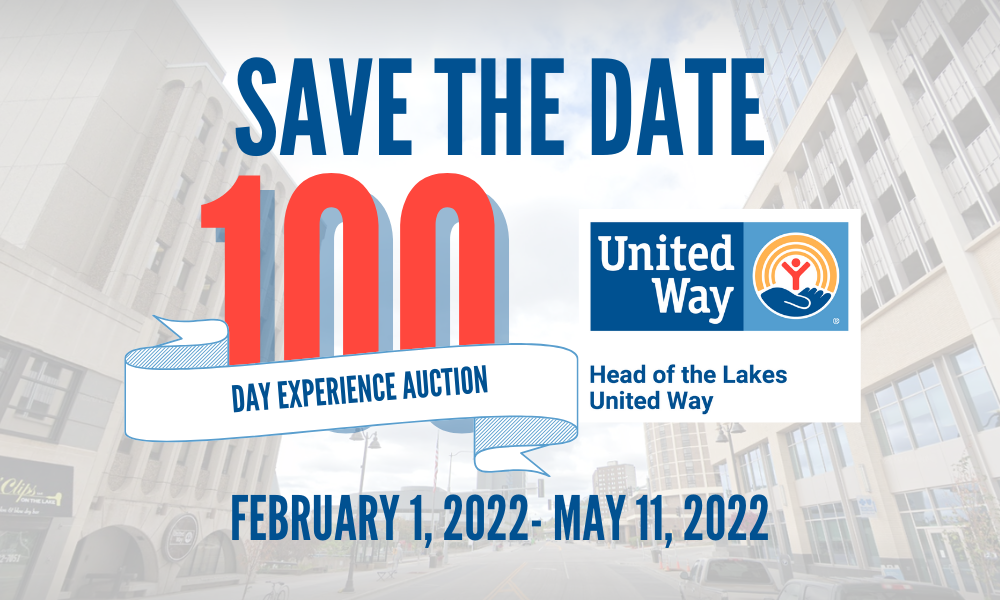 Welcome to the 100-Day Experience Auction! We're so glad that you're here and able to celebrate with us. This auction runs like your typical silent auction with a twist- one item per day will be auctioned! The bidding opens each morning at 6:00am and closes at 11:00pm for that day's experience. This auction includes 100 experience based auction items. At the end of each daily auction, the winner will receive a notification indicating that they have won, with an invoice. Head of the Lakes United Way will accept cash, check or online card payments. Each experience winner will make arrangements with HLUW staff regarding auction item pick up and payment. Our office is compliant with Covid protocols.
Learn More About the Auction
HOW TO ACCESS THE AUCTION
Visit: https://app.galabid.com/100dayauction
Click on the 'Register' button
Enter your details and click 'Register'
You will then receive a text to your mobile phone with a verification link. Clicking the link will take you to the auction where you can log in with the password you entered during registration. You are now ready to take part in the campaign.
Text: 100dayauction followed by your full name
To: +15415834642
Example: 100dayauction John Smith
Follow the registration link you are sent to log in and take part in the campaign.
THANK YOU TO OUR COMMUNITY SUPPORTERS
9Round Fitness
Aad Shriners
Align Yoga
Angel Nails
Badger State Brewing
Bayfront Blues Festival
Bear + Company LLC
Bearaboo Coffee Escape
Bent Paddle Brewing Co.
Blacklist Brewing Co.
Bob's Cabins on Lake Superior
Canal Park Lodge
Cash Wise Liquor
Castle Danger Brewery
ChiroWay Duluth
CollectorVision
Crayola Experience
Crescent Moon Bear Farm
CVS Pharmacy
Duhb Linn Irish Brew Pub
Duluth Goat Yoga
Duluth Grill
Duluth Pack
E-Bike Duluth
Emily Larson
Engwall Flowers
Fitger's Inn
Glensheen Mansion
Grand Marais Art Colony
Grandma's Marathon
Grandma's Restaurants
Great Lakes Aquarium
Green Bay Packers
Harlem Globetrotters
Joe Trela
Karen Savage
Kayla Erdmann
Kraus-Anderson Construction Company
Kwik Trip
Lake Geneva Ziplines & Adventures
Lake of the Torches Resort Casino
Lake Superior Helicopters
Lake Superior Railroad Museum
Lake Superior Zoo
Legacy Toys
Legendary Waters Resort and Casino
Midwest All-Star Wrestling
Midwest Peregrine Society
MicroShift Coaching & Consulting
Mike Raivala, Re/Max Results –
2 Bridges Real Estate Group
Minneapolis Institute of Art
Minnesota State Fair
Minnesota Timberwolves
Minnesota Twins
Minnesota Vikings
Mix Cosmetiques
Mocha Moose
Nemadji Golf Course
North Shore Scenic Railroad
North Shore SUP
Normal Distribution
Northshore Outdoors
Open Mind & Designs LLC
Oriental Trading
Pike Lake Golf Course
PixelHeart
Pizza Hut
Pryes Brewing Company
Racine Zoo
Radiant Massage Therapy
Reimagined by T. Underwood
Renee Van Nett
Retrotainment Games
Robert Peacock
Solglimt Bed & Breakfast
St. Paul Saints
Super One Foods Inc.
The Amazing Alonzo
The Bookstore at Fitger's
The Edge – ZMC Hotels
The Jamar Company
The Pottery Burn Studio
The Waters of Minocqua
Tim McShane, Bell Bank
Time Out Sailing
Top Hat Carriage Services
Twin Ports Dermatology
University of Minnesota Duluth Athletics
University of Minnesota Gopher Athletics
Va Bene
Whole Foods Co-op
Wisconsin Timber Rattlers
WKLK
Zenith Bookstore
LOOKING FOR MORE INFORMATION?
Contact Kayla Erdmann, Development Director at kerdmann@hlunitedway.org or by calling 218-726-4779!
Address: 424 W Superior St STE 402, Duluth, MN 55802