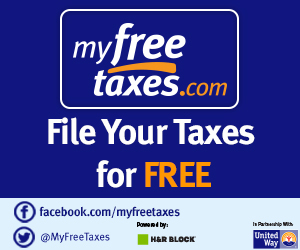 DID YOU KNOW… approximately 70% of individuals are eligible to file their taxes to federal and state absolutely free! We would like you to know about a free tax-filing service that can save you $200 in tax preparation fees.
MyFreeTaxes is a secure, mobile-optimized website that allows individuals and families earning $66,000 or less (2017) to self-file their federal and state tax in all 50 states and Washington, DC. Not only is this service FREE, it is operated by H&R Block, an industry-leader in tax preparation. Additionally, there is a helpline (1-855-MY-TX-HELP) and online chat support with services available by IRS-certified specialists.
Click here
for a printable poster about MyFreeTaxes.com
United Way has operated the
MyFreeTaxes
site since 2009 in conjunction with Volunteer Income Tax Assistance (VITA) sites, helping more than 2 million people bring $2.35 billion back to communities through tax credits.
Community Action Duluth
, a long-time agency partner with Head of the Lakes United Way, offers in-person help at tax time through their VITA Program. Local community members are trained and certified each year to assist the public in filing their taxes. Two volunteers that have been with the VITA program in our community from the beginning are Jeanette, HLUW's own Finance Associate/Pledge Coordinator, and Ruth, a dedicated campaign finance volunteer at our United Way office.
Although 70% of tax filers qualify for free filing, most are unaware of this service. Let's work together to ensure MyFreeTaxes.com is a resource that everyone is aware of. Thank you for your partnership.