Head of the Lakes United Way asks the community to raise "$40K in 40 Days" to help the 2018-19 Community Giving Campaign finish strong.
We have one life. To live better, we must Live United. That's the statement Head of the Lakes United Way has been sharing with communities of Ashland-Bayfield Counties, Greater Duluth, the North Shore of MN (Lake and Cook counties), and Superior-Douglas County this campaign season. Typically kicking off in the fall of each year, the Community Giving Campaign is a program of Head of the Lakes United Way which focuses on generating financial donations to support area non-profit programs.
Each year United Way asks local communities to invest in themselves. United Way then strategically partners with local non-profit health and human services programs to provide residents with critical necessities like food and safe housing, but also support for long-term solutions. United Way promotes partnerships and strategies that are foundational for a good life and strong community: basic needs, education, financial stability, and health.
As United Way's 2018-19 campaign wraps up, they are asking the community to help them in their final push of this year. "We want to finish strong – every dollar that is invested helps meet our most critical community needs" says Michelle Hargrave, Vice President of Impact and Development. "When our community joins together to LIVE UNITED, it makes all the difference."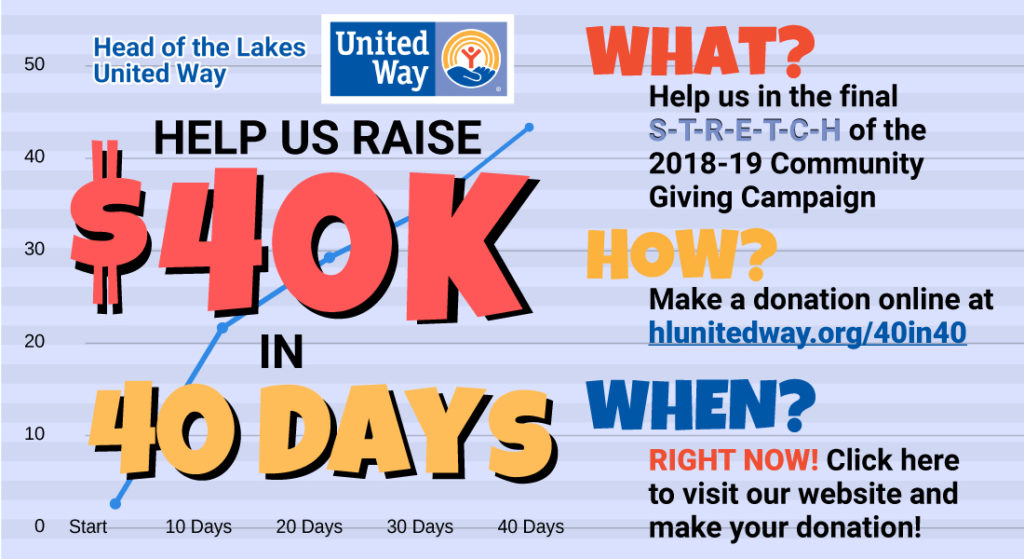 United Way has set up a special page on their website at hlunitedway.org/40in40. Donations may be made securely online, or sent to Head of the Lakes United Way, Re: $40K in 40 Days, 424 W Superior St, Suite 402, Duluth MN 55802. The 40-day campaign push concludes at the end of March. Whether $4, $40, or $400, all donations make a huge impact on the lives of our friends and neighbors.