Amazing Advocate
Leaving a Legacy
Stephanie Cummings: Wells Fargo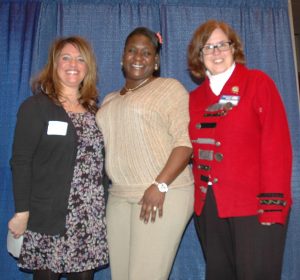 Twenty-five years ago, Stephanie Cummings was welcomed into her new job at Norwest Bank with a 20-minute explanation of why the company values United Way. Today, she is the district manager for the same company, now Wells Fargo, and is a strong advocate for Head of the Lakes United Way.
Stephanie's involvement started with payroll deduction, and since 2004, she coordinates Wells Fargo's "Spirit Week." Monday is dedicated to educating employees about the opportunity to give through a payroll deduction. For the remainder of the week, each day has a fun theme to get people excited about supporting United Way. For example, Tuesday is jersey day. Employees donate $5 to break the dress code and support their favorite team. Other examples include potlucks and mini-golf tournaments. Wells Fargo raises between $500-$800 during Spirit Week, with all proceeds going to Head of the Lakes United Way.
In addition to Spirit Week, Stephanie also travels around Duluth and encourages CEO's to get involved with United Way through employee payroll deductions or corporate donations. Have you attended a Head of the Lakes United Way event? Stephanie was probably volunteering. "I believe in United Way because I've seen what it can do, and I believe in where our money goes," Stephanie said.
Three years ago, Wells Fargo partnered with Neighborhood Youth Services to sponsor a fishing day. Employees gathered fishing supplies, and donated them to the kids who went on a daylong fishing excursion.  "It was an amazing partnership," Stephanie said. "Little stories like that make the biggest difference for me."
Stephanie (left) with Helen, a speaker at United Way's
Campaign Celebration, and board member, Lisa Erwin.
"If we're going to turn this city into a beautiful place and leave a legacy, then we need to give back here. We need to educate ourselves and be aware of what's going on two blocks from our homes and workplaces," Stephanie said. "We can make a difference."
Head of the Lakes United Way works with agencies and community volunteers to invest wisely in our community to create real, lasting changes in the areas of education, income, health, and basic needs.