Volunteer in Life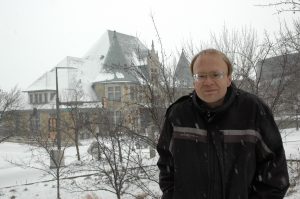 Jonathan Kuchera has volunteered with the United Way of Greater Duluth since March, 2010, and was presented with the organization's Live United Award in 2012. He likes the friendly, supportive environment provided by the office. Jonathan has a psychiatric disability, but also strong drives to help the world with its problems, and to learn.
Jonathan loves nature and the outdoors, and has been picking up litter on his walks since 1988. In the 1990's, he did both office and field work for the Nature Conservancy with his mother. He has updated maps for the U.S. Geological Survey, and done office work for the U.S. Department of Agriculture and the Duluth-Superior Symphony Orchestra. Jonathan is an eclectic music lover with a flair for keyboard improvisation.   Also a wide-ranging reader, he has donated much time and money to the Duluth Public Library. Besides United Way, his current volunteer jobs are with Minnesota Citizens Federation-Northeast (research assistant) and the American Lung Association (office work).  Among the many non-profits he supports financially are the local Community Foundation, Animal Allies, and CHUM.
United Way and this community are fortunate for people like Jonathan!