Amazing Advocates
Make a Choice, Make a Change
Dan Leslie: Minnesota Power and United Way advocate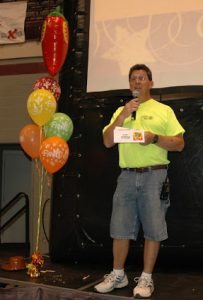 April, 2016
Dan Leslie's involvement with United Way started simply enough more than 20 years ago. His union, International Brotherhood of Electrical Workers Local 31, asked if he'd be interested in helping with United Way's annual fall fundraising campaign as a "loaned executive" to help educate others about the many ways United Way helps the community.
"Sure," Dan said, and in the process he saw the breadth and depth of United Way assistance to those in need. "It was eye-opening to the point that I never left. It's hard to walk away from the need when you know that it's there," Dan said. "You just need to help people. You just need to be part of the solution."
Dan, who recently retired from Minnesota Power, served for 15 years on the board of the United Way of Greater Duluth, now Head of the Lakes United Way. He left the board this past fall after serving on various committees over the years, including the executive committee and the governance committee.
Dan has been a powerful advocate for United Way at his workplace. Over the years he helped lead Minnesota Power's participation in events such as Day of Caring and the Chili Cook-off. He has been a willing participant in many other endeavors to raise money or lend a hand, including Power Volunteering, Minnesota Power's kickoff to its United Way fall fundraising campaign.
Dan's wealth of experience in planning and executing a variety of events isn't lost on others. He's often sought out as a resource to help identify potential pitfalls or offer advice. When it comes to United Way, or other efforts to benefit his church or community, Dan said he "selfishly" signs on. "I enjoy doing it. It makes you feel good."
In 2016, Dan was honored with the "LIVE UNITED" award for his dedicated service to United Way.