Amazing Advocates
Power Up!
Courtney Kile: Legal Aid Service of Northeastern Minnesota and United Way advocate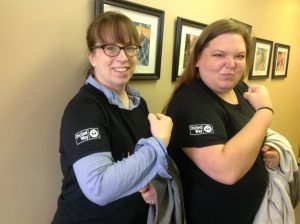 Fall, 2014
What makes a small non-profit rally big dollars for United Way? Courtney Kile's energy! In 2009, after working one year with the Legal Aid Service of Northeastern Minnesota (LASNEM), Courtney volunteered to be the office's campaign co-chair on behalf of United Way of Greater Duluth. In the years following, her contagious energy launched a wave of excitement about United Way's work in both the LASNEM office and the community.
Each year, the LASNEM office holds a "United Way Week" where Courtney encourages co-workers to donate a part of their paycheck to United Way of Greater Duluth. "I tend to have that bubbly, in your face personality, so I was hooked after my first year of campaigning," said Courtney. United Way partners with LASNEM, so Courtney sees the impact United Way funding has on their clients every day.
This motivation produced incredible results during LASNEM's 2013 United Way Week. In an office of only 11 employees, Courtney rallied co-workers to donate over $6,000 for the year. As far as dollars raised for the campaign, that amount ranked LASNEM among the big companies with employees in the thousands.
"I go a little crazy during United Way week," Courtney said. "And in the weeks before it, I try to amp everyone up." Fun activities happen every day during
the week, including raffles, drawings, and incentive prize giveaways.
Last year LASNEM employee donation participation rate reached 99 percent.
In addition to campaigning in her own office, Courtney occasionally accompanies United Way of Greater Duluth staff members to corporate campaign rallies to represent a United Way supported agency. "I love to go and get people fired up and inspired about their community," Courtney said. "To tell people that what they're doing is a big deal and does make a big difference, that's what I'm all about."
United Way of Greater Duluth works with agencies and community volunteers to invest wisely in our community to create real, lasting changes in the areas of education, income, health, and basic needs.