As we enter the final push of our 2018-19 Community Giving Campaign, we are asking our supporters to consider making a donation to help us finish strong.
From February 18th – March 29th, please use the buttons below to make a donation to the community of your choice.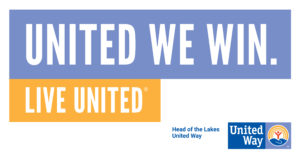 What impact would my gift have?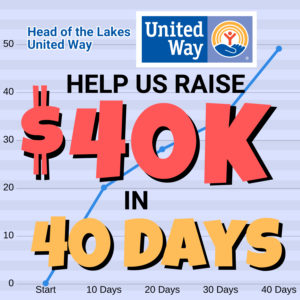 $4 provides hot meals to 6 hungry at-risk kids in the community
$4/week for a year allows for approximately 8 participants to participate in "job club," a group facilitated by staff that assists in community job seeking in a variety of ways.
$14 allows for rescue and distribution of $98 worth of groceries.

$40 provides two children with an oral health screening, dental cleaning, fluoride varnish application, oral hygiene instruction, new toothbrush, toothpaste and floss.
$432 purchases enough books for an entire 18-student classroom to participate in the Bookworms Program
If you would like to support our $40K in 40 Days push, but would prefer to make a donation
by mail, in person or over the phone, please contact us at 218-726-4770 or click here for
additional giving options.
Thank you for LIVING UNITED!